Mile High's Boy's team is a Nationally recognized gymnastics program.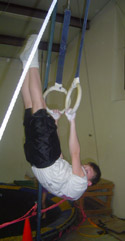 Established in 1997 by Edward Friedman, this program has developed numerous State and Regional Champions as well as Junior Olympic National Qualifiers.
Even though our Boy's Team strives for quality gymnastics it doesn't forget the fact that our gymnasts are children. We focus on creating an environment where learning is fun and reaching our potential is the number one rule of the gym!
We offer USA Gymnastics Level 4-Elite. If you have interest in joining our program please contact Milehighgyminfo@gmail.com.